CURRENT TREATMENTS
Today's recommended first-line treatments for BV include metronidazole 500 mg taken orally twice a day for 7 days.1 Or, one full applicator of metronidazole gel (5g) 0.75%, applied once a day for 5 days. Or, one full intravaginal applicator clindamycin cream (5g) 2%, applied at bedtime for 7 days.1
But, with more than 4 million women in the United States treated annually for BV, only about 50% adhere to treatment as prescribed; this is attributable to factors like dosing frequency, route of delivery, or cost.2,3
While these treatments may be effective in the short term, adverse side effects are common and include nausea, vomiting, an unpleasant metallic taste in the mouth, and, at times, vaginal candidiasis.4
In a recent qualitative study of patient attitudes surrounding BV care and treatment, a majority of women said they felt frustrated and dissatisfied with current treatment regimens.4 So much so, almost 70% will attempt to self-medicate or treat BV with over-the-counter remedies instead.5 Most of these remedies are ineffective, with some remedies (such as douching) increasing the likelihood of BV.6 Poor adherence to anti-infective therapy can also increase with the length and complexity of the drug regimen.7
60% of women who have BV will likely see it return within 12 months.7 That's why new and innovative approaches are needed to reduce the burdens of existing recommended regimens.
STATE OF CURRENT TREATMENTS
PATIENT PERCEPTIONS OF CURRENT BV REGIMENS

GOOPY AND GROSS MESS
Vaginal gels and creams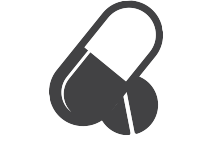 METALLIC TASTE,
DIFFICULT TO SWALLOW PILLS
Oral medication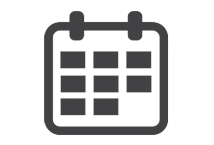 LONG ENOUGH TO CONSIDER
ABANDONING TREATMENT
Length of regimen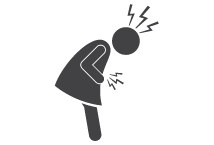 HEADACHE, STOMACH PAIN,
DIARRHEA, NAUSEA
Side effects
HEALTHCARE PROVIDER PERCEPTIONS OF CURRENT BV REGIMENS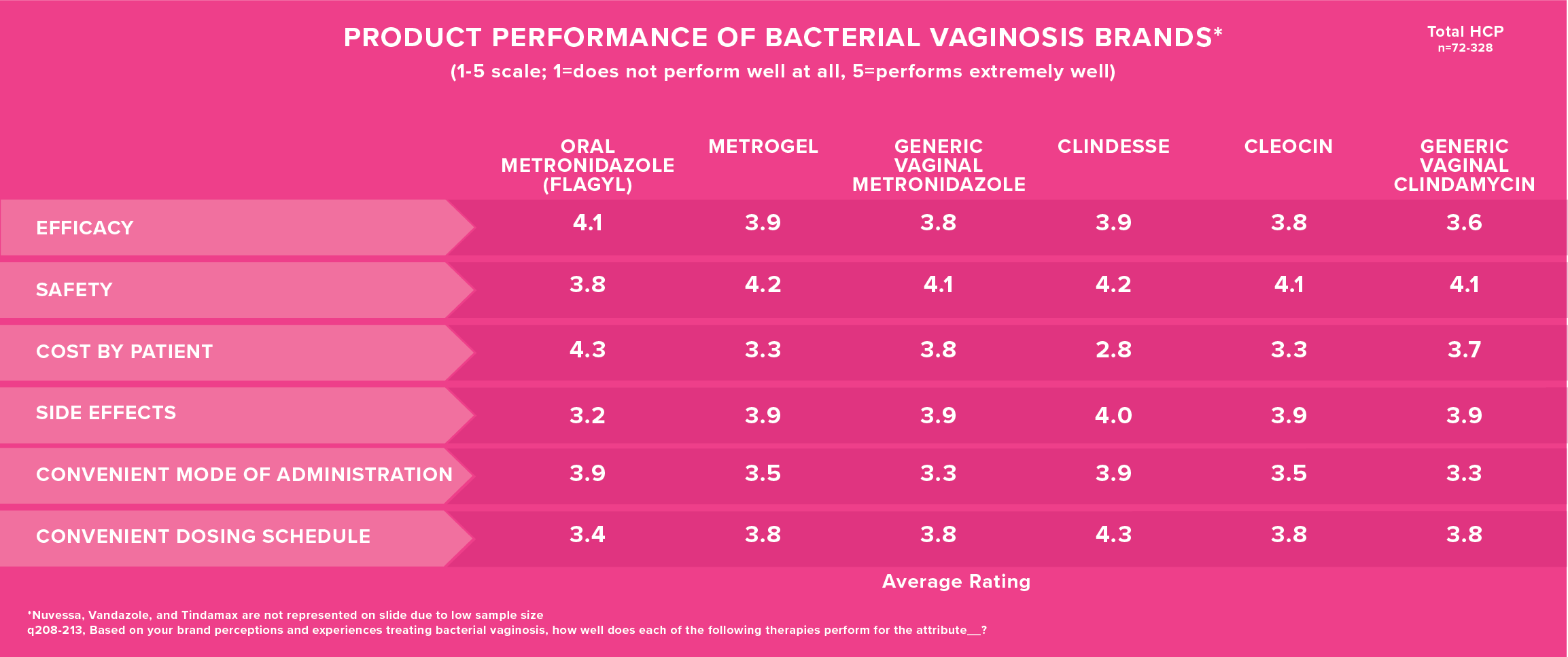 PRODUCT PERFORMANCE OF BACTERIAL VAGINOSIS BRANDS*
(1-5 scale; 1=does not perform well at all, 5=performs extremely well)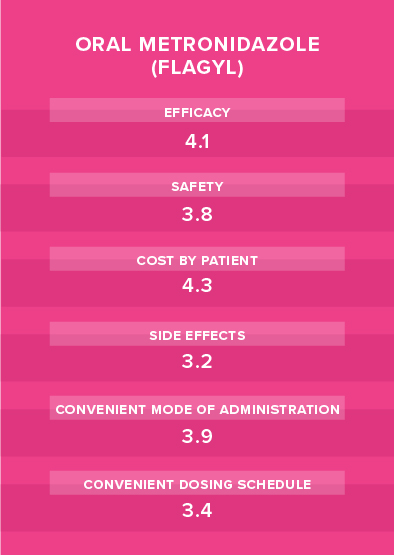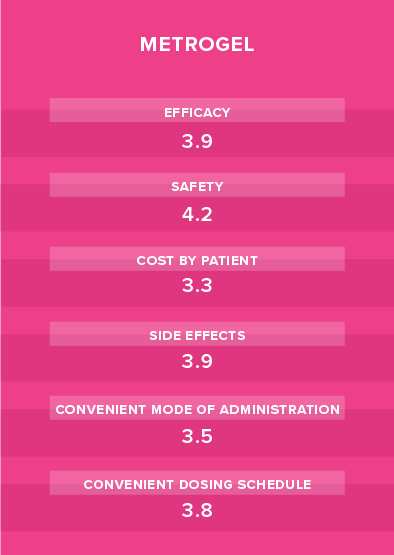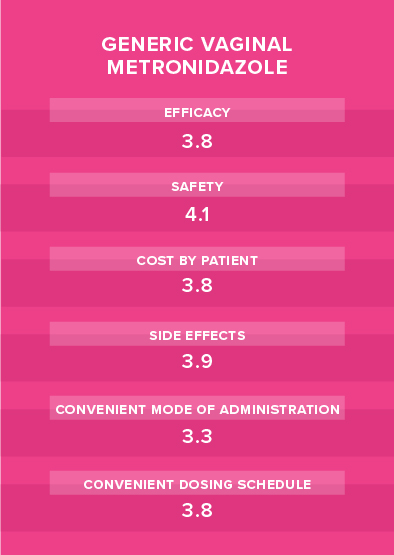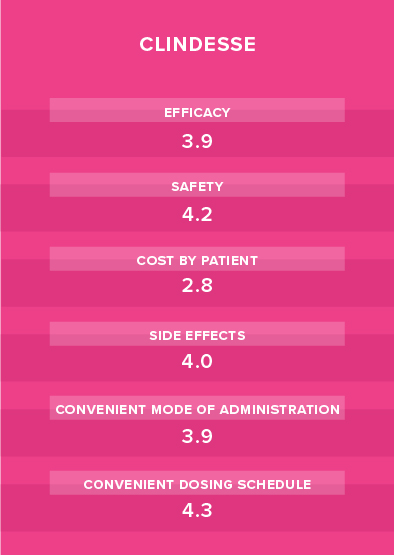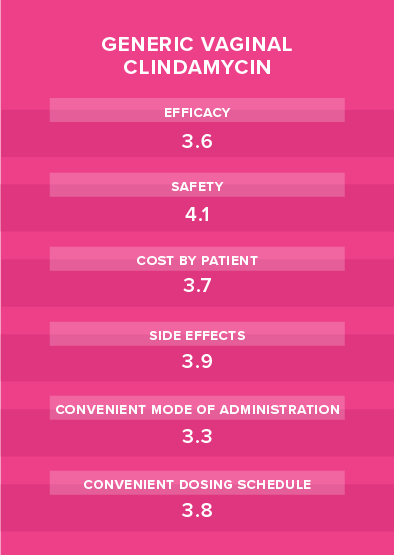 FUTURE TREATMENTS
IN HER WORDS
"I wanna know why me, why I get it all the time. I want an answer, I want a cure!"
An innovative approach to treating BV need not only apply to medical regimens. In a qualitative study, a majority of women expressed the need for greater public awareness and improved education regarding women's health in general—and BV particularly.4
Of course, education is only the start. Women also expressed the need for treatment and preventive options that do not require taking antibiotics regularly.
Recent developments in the medical industry have unveiled a new, single-dose oral therapy for BV. To learn more about this FDA-approved treatment, visit these links:
91% OF WOMEN WITH BV
would be open to trying new treatment options for their BV.8*
*SURVEY METHODOLOGY
Survey conducted online by Harris Poll on behalf of Symbiomix Therapeutics, LLC, a Lupin Company and the American Sexual Health Association (ASHA) within the United States between September 14 and 29, 2017 among 304 US women aged 18-49 who have been diagnosed by a healthcare professional with bacterial vaginosis (BV) within the past 2 years ("women with bacterial vaginosis"). Figures for age, income, race/ethnicity, region, education, and size of household were weighted where necessary to bring them into line with their actual proportions in the population.8
SHOW REFERENCES
Centers for Disease Control and Prevention. Diseases characterized by vaginal discharge. www.cdc.gov/std/tg2015/vaginal-discharge-htm. Accessed September 25, 2017.
IMS Health, 2014.
Bartley JB, Ferris DG, Allmond LM, Dickman ED, Dias JK, Lambert J. Personal digital assistants used to document compliance of bacterial vaginosis treatment. Sex Transm Dis. 2004;31(8):488-491.
Bilardi J, Walker S, McNair R, et al. Women's management of recurrent bacterial vaginosis and experiences of clinical care: a qualitative study. PLoS One. 2016;11(3):e0151794. doi: 10.1371/journal.pone.0151794. eCollection 2016. Accessed August 23, 2017.
Baraia ZA, Abdallah IM, Noor SA. Impact of educational program about self-care practices on the relieving of vaginal infection among high risk women in Ismailia city. IOSR J Nurs Health Sci. 2017;6(3):73-78.
Kardas P. Once-daily dosage secures better compliance with antibiotic therapy of respiratory tract infections than twice-daily dosage. J Appl Res. 2003;3(2):201-206.
Bilardi JE, Walker S, Temple-Smith M, et al. The burden of bacterial vaginosis: women's experience of the physical, emotional, sexual and social impact of living with recurrent bacterial vaginosis. PLoS One. 2013;8(9):e74378. https://doi.org.10.1371/journal.pone.0074378. Accessed August 23, 2017.
Data on file.