It's time to get real. Like really real about some things that are hard to talk about—and maybe even hard to think about. But your sex life and intimacy can be greatly affected when something's not quite right with your vagina. So, get ready and read on. We promise it won't be so bad. In fact, you'll probably feel relieved.
ODOR AND INTIMACY
Feminine odor is something every woman experiences at some point. And, when you have sex, the way things smell down there can sometimes leave you feeling self-conscious about your body.1
While we all have our own distinctive smell (which comes from a combination of factors, including the bacteria that naturally reside in your vaginal area, diet, exercise, and even clothing), there are times when you may notice your personal scent has changed.1
When that happens, there may be an underlying health problem. Talk to your healthcare provider about what's happening.
WHAT'S THE WHIFF TEST?
Healthcare professionals often use the Whiff Test to diagnose BV. What the heck is that? Read on.
The test is performed by adding a small amount of a chemical to a microscopic slide of vaginal discharge. If the characteristically fishy smell is present, it is considered a positive test for BV.2
There are also at-home tests you can buy. However, at-home tests are not always reliable. It's best to talk to a healthcare professional instead.3
TALKING TO YOUR PARTNER ABOUT BV
If you think you have BV, following these steps can help make breaking the news a little less nerve-wracking.
STEP 1: BRUSH UP ON YOUR BV FACTS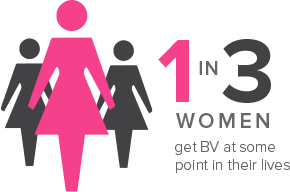 BV can be treated effectively with a prescription from your healthcare provider
Find a quiet place where you feel comfortable talking
Start with the facts:
If you have a lady lover, she may be at risk for contracting BV. Explain that she should visit a healthcare provider, too.5 Whether your partner is male or female, you will need to abstain from intercourse for a little while. Semen and sex toys can affect your vagina's pH level and lead to an imbalance of bacteria.6
Alcohol can interfere with most treatments; better to schedule that party in 10-14 days! Share the length of treatment with your partner so they know when all systems are GO!6
NOW THAT YOU'RE DONE, ENJOY HER AWESOMENESS.
YOU'VE TAKEN THE CORRECT STEPS TO KEEP HER AS HEALTHY AS CAN BE!
TALKING TO YOUR
HEALTHCARE PROVIDER ABOUT BV
Do you feel nervous about discussing your symptoms with a healthcare professional? The next time you schedule a visit, download the Discussion Guide and arm yourself with these tips.
BEFORE YOUR VISIT9
Make a list of any symptoms you're experiencing
Include all symptoms—even if you don't think they're related
Make a list of any medications, vitamins, herbs, or supplements you take
Include how often you take them and the doses
Make sure to:
Avoid using tampons
Not douche or use vaginal deodorant sprays
Not have sex 24 hours before your appointment
DURING YOUR VISIT9
Keep in mind, you can talk to your healthcare provider about anything you feel unsure of. But if you're not so sure what to ask, these are a few important questions.
What causes BV?
Can I do anything to prevent BV?
What signs and symptoms should I look for?
What treatment options are available?
Are there special instructions for taking the treatment?
Is BV an STI, and does my partner need to know?
Will my partner need to be tested or treated?
Is it safe to have sex if I have BV?
When can I expect relief from my symptoms?
What can I do if my symptoms return after treatment?
Remember, you're not alone! BV is a common infection.10 In fact, it's the most common vaginal infection for women between the ages of 14 and 49 (affecting 21 million women in the U.S. annually). BV can be a bummer—but with the right diagnosis and prescription, BV is treatable.4
68% OF WOMEN WITH BV FEEL
SELF-CONSCIOUS
and/or 66% feel embarrassed due to their condition.11*
*SURVEY METHODOLOGY
Survey conducted online by Harris Poll on behalf of Symbiomix Therapeutics, LLC, a Lupin Company and the American Sexual Health Association (ASHA) within the United States between September 14 and 29, 2017 among 304 US women aged 18-49 who have been diagnosed by a healthcare professional with bacterial vaginosis (BV) within the past 2 years ("women with bacterial vaginosis"). Figures for age, income, race/ethnicity, region, education, and size of household were weighted where necessary to bring them into line with their actual proportions in the population.11
SHOW REFERENCES
Coy W. If your vagina is smelling a little off, it could be a sign that something is wrong. www.sheknows.com/health-and-wellness/articles/953245/5-causes-of-feminine-odor. Accessed September 25, 2017.
Brotman RM. Vaginal microbiome and sexually transmitted infections: an epidemiologic perspective. J Clin Invest. 2011;121(12):4610-4617.
WebMD. Do-it-yourself vaginitis care testing. blogs.webmd.com/womens-health/2012/07/do-it-yourself-vaginitis-care-testing.html. Accessed September 25, 2017.
Koumans EH, Sternberg M, Bruce C, et al. The prevalence of bacterial vaginosis in the United States, 2001-2004; associations with symptoms, sexual behaviors, and reproductive health. Sex Transm Dis. 2007;34(11):864-869.
Donders G. Diagnosis and management of bacterial vaginosis and other types of abnormal vaginal bacterial flora: a review. Obstet Gynecol Surv. 2010;65(7):462-473.
Centers for Disease Control and Prevention. Diseases characterized by vaginal discharge. www.cdc.gov/std/tg2015/vaginal-discharge.htm. Accessed September 25, 2017.
Kumar N, Behera B, Sagiri SS, Pal K, Ray SS, Roy S. Bacterial vaginosis: etiology and modalities of treatment—a brief note. J Pharm Bioallied Sci. 2011;3(4):496-503.
Intimina. Why vaginal pH is essential to your intimate health. www.intimina.com/blog/vaginal-ph-importance/. Accessed September 15, 2017.
Mayo Clinic. Bacterial vaginosis. www.mayoclinic.org/diseases-conditions/bacterial-vaginosis/diagnosis-treatment/preparing-for-appointment/ptc-20198422. Accessed September 25, 2017.
Bilardi J, Walker S, McNair R, et al. Women's management of recurrent bacterial vaginosis and experiences of clinical care: a qualitative study. PLoS One. 2016;11(3):e0151794. doi: 10.1371/journal.pone.0151794. eCollection 2016. Accessed August 23, 2017.
Data on file.